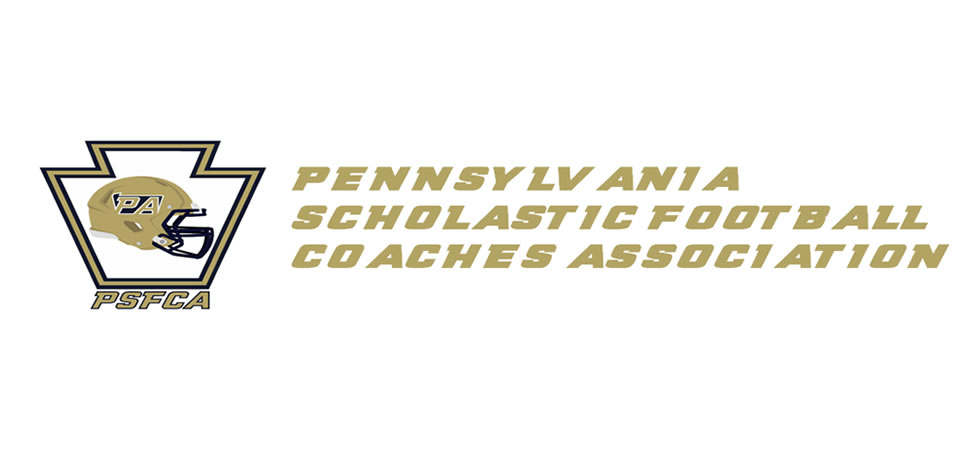 PSFCA Endorses USA Football's Heads Up Football HS Program
By: PSFCA | PSFCA | May 18, 2016
The Pennsylvania Scholastic Football Coaches Association (PSFCA) has endorsed USA Football's Heads Up Football High School® program for the betterment of it member coaches and their student-athletes. Including the PSFCA, a total of 26 state high school athletic associations and coaches associations support the USA Football program.
USA Football, the sport's national governing body and a member of the U.S. Olympic Committee, trains more high school and youth football coaches combined than any organization in the United States.
In preparation for the 2016 football season, the PSFCA recommends each of its 4,000 members to enroll for USA Football's nationally endorsed Heads Up Football High School training and coursework.
Created and administered by USA Football, Heads Up Football High School establishes important standards rooted in the best available science and is supported by the American College of Sports Medicine, the National Athletic Trainers' Association and the American Medical Society for Sports Medicine, among others.
More than 1,100 high school football programs nationwide enrolled in Heads Up Football High School in 2015.
"The health and safety of Pennsylvania's student-athletes is our top priority," said Pennsylvania Scholastic Football Coaches Association Executive Director GARRY CATHELL. "Implementing USA Football's Heads Up Football program will provide our coaches with the education and resources to best teach the sport, ultimately making the game better and safer for our student-athletes."
Heads Up Football High School is a comprehensive approach to teach and play the No. 1 participatory sport of high school boys. The program teaches blocking and shoulder-emphasized tackling techniques designed to reduce helmet contact and improve skill development as well as all-sport-relevant topics including Centers for Disease Control and Prevention (CDC) concussion recognition and response; sudden cardiac arrest protocols; hydration and heat preparedness; and instruction on proper helmet and shoulder pad fitting.
Coaches enrolled in the USA Football program complete hands-on, in-person training as well as the Heads Up Football High School certification course developed by the National Federation of State High School Associations (NFHS) and USA Football. USA Football is an education partner of the NFHS.
Education Components of Heads Up Football High School:
Concussion Recognition and Response
Heat Preparedness and Hydration
Sudden Cardiac Arrest
Proper Equipment Fitting
Heads Up Tackling
Heads Up Blocking
"This is an important commitment by the Pennsylvania Scholastic Football Coaches Association for its members and student-athletes," USA Football CEO Scott Hallenbeck said. "Coaches are teachers. This empowers them to establish an exciting new standard across the state, raising the bar for fun and positive football experiences with lasting fitness, academic and social benefits."
State high school associations and coaches associations that support USA Football's Heads Up Football High School program for the good of their student-athletes:
Alabama High School Athletic Association

Minnesota Football Coaches Association

Alaska School Activities Association

Mississippi High School Activities Association

Arizona Interscholastic Association

Nebraska Coaches Association

Arkansas Football Coaches Association

North Carolina Football Coaches Association

California Interscholastic Federation

Oregon Coaches Association

Delaware Interscholastic Athletic Association

Oregon School Activities Association

Hawaii High School Athletic Association

Pennsylvania Scholastic Football Coaches Assoc.

Idaho High School Activities Association

South Carolina Football Coaches Association

Indiana Football Coaches Association

Vermont Principals Association

Indiana High School Athletic Association

Virginia High School League

Louisiana High School Athletic Association

Louisiana High School Coaches Association

Virginia Independent Schools Athletic Assoc.

Northern Virginia Football Coaches Association

Michigan High School Football Coaches Assoc.

Washington Interscholastic Activities Association