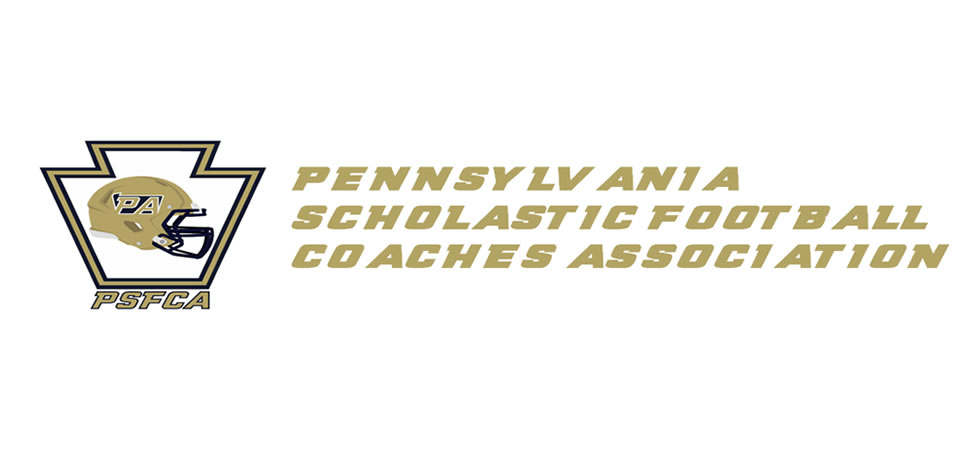 Penn Hills RB Tim Smith, Selinsgrove QB Logan Leiby steer West All-Stars to PSFCA showcase win
By: Eric Epler | PennLive | May 7, 2018
ALTOONA -- Tim Smith didn't haul the fastest tread to Altoona's Manson Park Stadium yet it didn't stop the Penn Hills running back from a good romp in the rain.
Smith accounted for 153 all-purpose yards and Selinsgrove QB Logan Leiby connected on 10 of 15 passes Sunday as the West contingent made it two straight in the 17th annual PSFCA East-West All-Star game.
Through the driving rain storm – what else is new for the venue affectionately hailed as the Raven's Den? – Pine-Richland coach Eric Kasperowicz watched his crew secure a 21-7 halftime lead and then hold off Harrisburg QB Yahmir Wilkerson and the East.
Wilkerson's TD sprint out with 2:45 to play, coupled with his 2-point conversion pass to Lincoln RB Sam Karr, had whittled the West lead to three points.
Leiby, however, dashed the East's last breath when he converted a third-and-5 by hitting Penn-Trafford's Cam Suman. The East, out of timeouts, watched Leiby take two kneel downs in victory formation.
Smith, the West MVP, did not score but rushed 13 times for 88 yards and caught five passes for 65 stripes. Leiby finished with 137 of 150 passing yards for the West.
DISTRICT 3 LEADERS
Smith worked behind Cumberland Valley OT Jacob Fetterolf and State College guard Collin DeBoef throughout.
CV's Christian Arrington also weighed heavily on the West defense at linebacker.
The East managed just four first downs after halftime and were limited to 66 rushing yards on 22 totes.
Wilkerson, who completed 7 of 10 pass attempts, and fellow East QB Michael Ruisch did produce a handful of big plays.
Following a West touchdown on the opening possession, Wilkerson snapped off a third-and-15 shot to Manheim Central WR Jake Novak. The latter beat the coverage on a deep slant for a 35-yard score.
Later, a fumble by Wilkerson did turn into a 13-yard touchdown return by Bethel Park DE Gavin Vargesko early in the second, but Karr's 24-yard TD run eventually sliced the East deficit to 21-14 with 2:38 to go in the half.
Manheim Twp. WR Rece Bender finished with two catches for 91 yards, while Central Dauphin TE Grant Smith (3-48) and Bethlehem Catholic's Chris Drayton (3-35) gave the QB tandem plenty of targets. Wilkerson was 7 of 10 on the afternoon.
Lampeter-Strasburg kicker Peyton Denlinger chipped in three PATs and a 33-yard field goal late in the third quarter. Karr, named the East MVP, rushed 5 times for 70 yards.
Robert Kennedy, the hero behind Jeannette's Class 2A championship in December, capped the West scoring with a 4-yard run in the third.
GAME NOTES
DeBoef, bound for Penn State as a preferred walk-on, and East guard Jeremiah Gutierrez of Stroudsburg received some good news postgame. Both were awarded roster spots for the June 16 Big 33 game after a pair of players opted out.
Middletown's Brady Fox rushed four times for 7 yards and caught one pass for 10 yards.
Manheim Central LB Tyler Simon, Hazleton's Adrian Otero and Lancaster Catholic DE Peyton Snopek (sack) were among the biggest standouts on the East defense.
The West won the 2017 showcase 17-14. Sunday's game was the fourth straight decided by three points or less.
THEY SAID IT
"It feels good, but I wasn't in condition for this one. I thought it was just come here and play. Next time I'm going to be well conditioned when I get the call." – West RB Tim Smith of Penn Hills
"I got to meet new guys and we had a good connection in the game. We had a couple of mistakes but it was a good experience overall. I liked the targets (receivers). It was definitely different but throughout practice this week we got our timing down." – East QB Yahmir Wilkerson of Harrisburg
17th PSFCA East-West All-Star game (Mansion Park, Altoona)
East -- 7 – 7 – 3 – 8 -- 25
West -- 14 – 7 – 7 – 0 -- 28
First quarter
West-Garret Fairman 8 pass from John Varadzel (Carter Raupach kick), 8:03
East-Jake Novak 35 pass from Yahmir Wikerson (Peyton Denlinger kick), 4:27
West-Logan Leiby 1 run (Raupach kick), 2:19
Second quarter
West-Gavin Vargesko 13 fumble return (Raupach kick), 10:26
East-Sam Karr 24 run (Denlinger kick), 2:38
Third quarter
East-FG Denlinger 33, 3:38
West-Robert Kennedy 4 run (Raupach kick), :47
Fourth quarter
East-Wilkerson 1 run (Karr pass from Wilkerson), 2:45
Team Stats East West
First downs 12 14
Rushes-Yards 22-66 29-142
Passing 241 150
Comp-Att-Int 13-20-0 13-25-0
Punts-Avg. 2-38 4-30.8
Fumbles-lost 2-2 0-0
Penalties-yds 7-70 5-55
Individual statistics
RUSHING: East, Sam Karr 5-70, Yahmir Wilkerson 7-11, Brady Fox 4-7, Xavier Roman 1-1, Chris Drayton 2-(minus-4), Michael Ruisch 3-(minus-19); West, Tim Smith 13-88, Robert Kennedy 5-60, Logan Leiby 5-12, Cam Laconi 1-1, Team 3-(minus-4), Drew Saxton 2-(minus-15.
PASSING: East, Michael Ruisch 6-10-0—123, Wilkerson 7-10-0—118; West, Logan Leiby 10-15-0—137, John Varadzel 1-1-0—9, Drew Saxton 2-9-0—4.
RECEIVING: East, Rece Bender 2-91, Grant Smith 3-48, Chris Drayton 3-35, Jake Novak 1-35, Xavier Roman 2-12, Andrew Nickles 1-10, Brady Fox 1-10; West, Tim Smith 5-65, John Varadzel 2-37, Garret Fairman 2-18, Cam Suman 2-16, Cam Laconi 2-12, Robert Kennedy 1-2.
Follow @threejacker