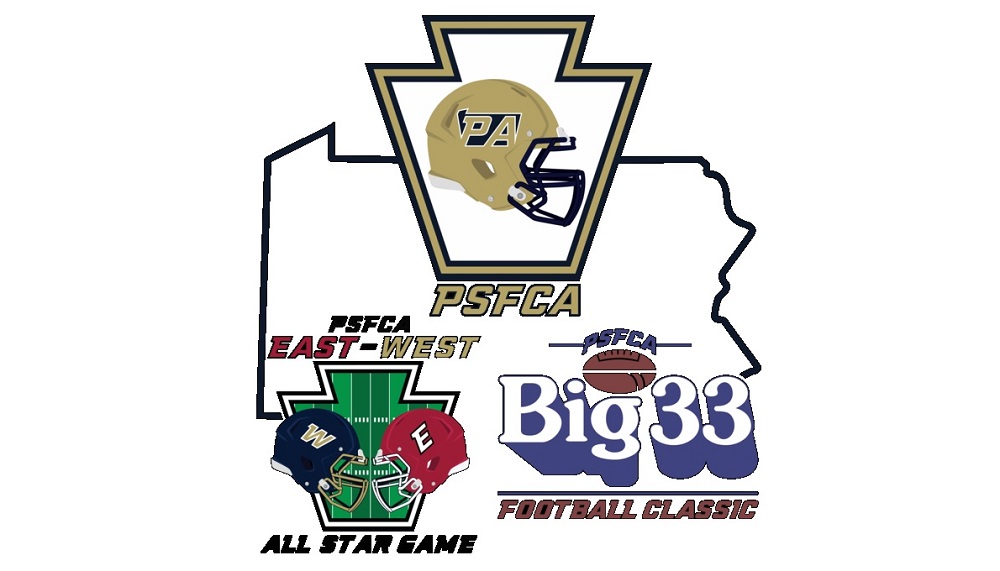 2020 PSFCA Big 33 East/West Nominations ARE OPEN! Close December 31st at Midnight!
By: Billy Splain | PSFCA | November 19, 2019
2020 PSFCA Big 33 East/West Nominations
Open November 19th
Close December 31st at Midnight!
We are striving to make it as easy as possible for you to nominate your players again this year!
Dear Head Coach & Athletic Director,


To nominate a Pennsylvania Big 33 or East/West player, you must be a current 2019-2020 PSFCA member. To become a member, go to www.psfca.net
or confirm membership contact Garry Cathell at garrycathellpsfca@gmail.com or 814.360.4830.
You must be the head coach to nominate a player. If there is no head coach in place at the time of nominations, the athletic director should nominate the players from their high school.
Step 2:
You do NOT need to submit Hudl for your player. However,
VERY IMPORTANT
Please make sure the player that you are nominating has highlight video that can be viewed publicly on Hudl.
CRITICAL
: High quality highlight footage and clear game footage must be submitted on Hudl - showing the player in the position which he is being nominated.

Nomination form must be submitted by at Midnight December 31, 2019
The 63rd Big 33 Football Classic Game will be held Monday May 25, 2020, and the E-W Game will be held the day before May 24, 2020.
In order to nominate a player you must be a current member of the PSFCA. Membership runs August 1st through July 31st of each year; so you must have joined or renewed your membership after August 1st 2020 to nominate a player. If you are not a member of the PSFCA for this year please go to the PSFCA website at
www.psfca.net
and renew your membership. PLEASE MAKE SURE YOUR MEMBERSHIP IS TAKEN CARE OF BEFORE YOU NOMINATE A PLAYER. If you have questions regarding your membership or whether you are a current member, please contact Garry Cathell directly at (814) 360-4830 or e-mail him garrycathellpsfca@gmail.com
If you have any questions after completing these steps listed above you may direct them to gcathell@big33.org.
Please take the time to nominate your player by December 31, 2019 as we WILL NOT be accepting nominations after this date.
Sincerely,

Garry Cathell
PSFCA-Big 33
Executive Director
(814) 360-4830