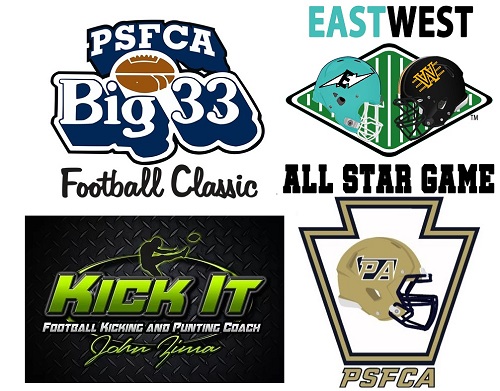 Big 33 and East/West Game Kicker Process
By: Billy Splain | PSFCA | November 19, 2019
Coaches,
NEW FOR 2020 we have established an East and West Specialist Selection Contest. This year we will have two contests - The West contest is scheduled for December 4th 6:45pm, RMU Island Sports Center, 7600 Grand ave. Pittsburg PA. The East contest is schedule for December 22 8:00am, at Spooky Nook Sports Complex - Dome, 75 Champ Blvd., Manhiem PA. Final contest results will be forward to the Big 33 selection committee for final consideration to the games.
Long Snappers - Coaches if you have a strong long snapper candidate, please nominate them for the appropriate regional selection contest. They will be used and evaluated during the punting segment of the contest.
The criteria for nomination to the contest is:
- Only coaches who are members of the PSCFA can nominate specialist.
- A player must play in at least 50% of the regular season games.
- Stats from playoff games will not be included in the assessment.
- Season stats must be entered into the attached spreadsheet. Please return the spreadsheet to John Zima. He will add all of the players data into a spreadsheet that will score the players season performance. Highest percentage of scores will be the strongest recommendations to the contest.
If you have a candidate that you feel has the potential to compete for this contest, please provide John with the following information; Kickit.jz@gmail.com
- name
- school
- position
- contact information, email, cell number
- coach name and email, cell number
- local media
- spreadsheet with season stats
DEADLINE FOR NOMINATION AND SPREADSHEET IS DECEMBER 8th.
We will begin to promote event through our website and future marketing promotions.
If you have any questions, please contact Mike Farr Farrmj@verizon.net or John Zima ( Kickit.jz@gmail.com (610-683-6591)
Please completer the following form:
Sincerely,

Garry Cathell
PSFCA-Big 33
Executive Director
(814) 360-4830