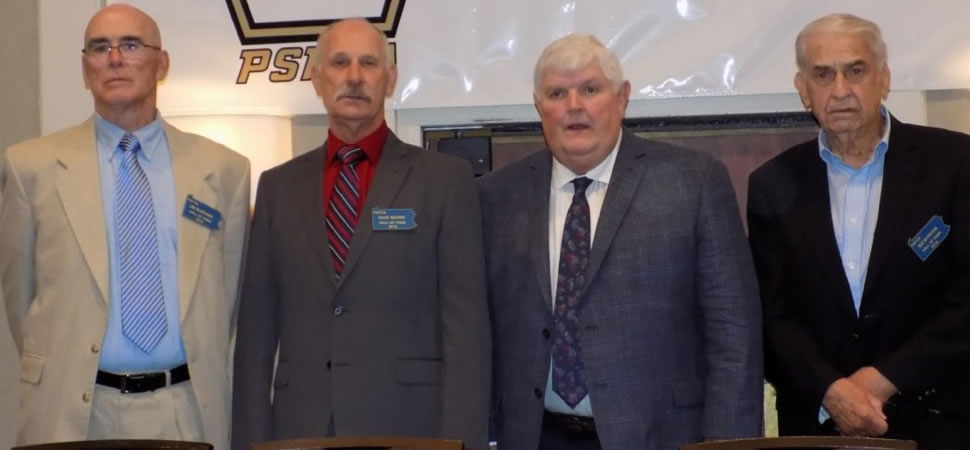 PSFCA to Induct 4 Into Hall of Fame
By: PSFCA | PSFCA | May 13, 2019
The PSFCA will induct 4 new members into the Hall of Fame on Sunday, May 26.
Dave Moore
Dave Moore graduated in 1969 from Williams Valley High School in Tower City, Pennsylvania and earned a B.S. degree from Mansfield State College in 1973. His first permanent teaching and coaching position was at Zuni High School on the Zuni Indian Reservation in New Mexico. He coached the Zuni T-Birds for two years, helping them to earn their first-ever winning season with a 6-3 record.
In 1978 Dave returned to New Bethlehem, Pennsylvania to teach American History and to coach three sports, including Jr. High football. After posting a 6-1 record at that level, he was named the Varsity Head Coach of the Bulldogs in 1979. For the next 18 years Coach Moore, his staff and teams won four Little Twelve Conference Championships and one Eastern Division Conference Title. Redbank also captured three District 9 AA Championships and were runners up twice. Along with those titles, the RV Bulldogs won 25 consecutive conference games in back-to-back undefeated seasons.
In 1987 Dave was the first coach in the KSAC Conference to implement the one-back set utilizing a Run and Shoot Offense. Dave was named Coach of the Year three times in the Little 12 and Keystone Shortway Conferences and was given the same title by the Kittanning Leader Times newspaper. He has been recognized as the winningest football coach in Redbank Valley history with a lifetime record of 118 wins, 51 losses, and 5 ties. He was also the first coach named to the Redbank Valley Hall of Fame in 2018.
Dave credits his successes to having great assistant coaches, dedicated athletes, and a supportive community. Most importantly, he appreciates his friends and family, with special thanks to wife Nancy, son Matt, and daughter Ashley for their patience and support.
Ted Nypaver
Ted graduated from South Union High School. He was on the All-Fayette County Football Team. He was a starter all through his college years in football, as an end, on both sides of the ball. He attended Louisiana-Monroe on scholarship. He later transferred to Salem College. His senior year he was voted, by his peers, as the Outstanding Senior Athlete. He was an assistant coach at Dunbar High School. His first head coaching job was two years at Beth Center and a one-year stint at Blairsville and Mt. Pleasant. Ted was the head football and basketball coach at Blairsville. His teams won the Indiana County championships in both sports. He was named the Indiana County H.S. Coach Of The Year.
Ted accepted the job as head coach at Southern Huntingdon H.S. His teams won 124 games, lost 34, and tied 6. At home his Southern Huntingdon Rockets boasted a record of 65-12-2. They won 6 Inter-County titles and 7 Mid-Penn Conference championships. His 1978, 1979, 1980 teams held the longest winning streak of 28 games in the state. He was named Mid-Penn Coach Of The Year six times and Inter-County Coach Of The Year four times. He was one of six coaches from PA, Ohio, and WV. honored at the Coach Of The Year Clinic in 1981. In 1984 he accepted the coaching job at Spring-Ford H.S. His tenure produced 31 wins, 5 losses, and two ties. His winning percentage is the best ever at both Southern Huntingdon and Spring-Ford. After a second place Conference finish in 1985 his teams won the PAC-10 Conference in 1986 & 1987. Ted was the PAC-10 Coach Of The Year in 1986.
In 2002 he was inducted into the Huntingdon County Hall Of Fame.
Jim Morgans
Jim Morgans has devoted 56 years to football as both a player and a coach. He began as player at Allentown Central Catholic graduating in 1964. He attended Cisco Jr. College in Cisco, TX. After two seasons Jim accepted a scholarship to play for Louisiana College in Pineville, LA.
After graduating he started his coaching career at a high school in Louisiana. Soon after he accepted a teaching and coaching position at his alma mater Central Catholic. Jim had two stints as head football coach at Central Catholic: 1976-1982 and 1989-1998. Jim left ACCHS to become the head football coach at Salisbury High School for two seasons (1999-2000) and Freedom High School for four seasons (2001-2004) before finishing at Parkland High School.
Jim's career record stands at 283-137-1. His teams have won 2 PIAA State Championships, 2 PIAA State Runner-ups, an Eastern Conference Title, 10 East Penn Conference Titles, and a record 11 District XI Championships. While at Parkland Jim received the 2007 Shutt Sports East Region Coach of the Year honor.
Jim is humbled and proud to have been inducted into the Louisiana College, Parkland HS, ACCHS, McDonald's, National Football Foundation and Eastern Pennsylvania Football Halls of Fame. In addition, he was privileged to serve as the head football coach in the 1994 High School All-American game, the 1983, 1992 & 1995 McDonald's All-Star Classic, and the 2008 Big 33 Game.
Jim retired in 2015 after teaching for 46 years. He and his wife Kathryn have been married for 47 years. They have 7 children and 20 grandchildren. Jim would like to thank all the players and coaches that are responsible for the success that he experienced in his career, with a special thanks to his wife Kathy and children Jamie, Tracy, Wendy, James, Mary, William and Kathryn Claire.
John Hayes
John is a 1964 graduate of East Huntingdon Township High School in Alverton, PA. He participated in football and track, receiving WPIAL recognition in football his senior year. Following graduation, John attended Susquehanna University before transferring to Juniata College the following year. He participated and lettered all four years on very successful teams.
Following graduation in 1969, Tyrone Area High School hired John as a social studies teacher and varsity football assistant. He served in that capacity until 1979. In 1980, neighboring rival Bellwood-Antis High School hired him as their head football coach. The following year he became a social studies teacher and athletic director, positions he held until 2017. Those 38 years produced a record of 323 wins, 103 losses, and 2 ties - tenth most victories in PA football history. He had 5 undefeated seasons; won 19 conference championships; qualified for 15 District 6 finals winning six championships; advanced to the PIAA Final 4 on three occasions.
Coach Hayes has won numerous "Coach of the Year" awards highlighted by being named PSFCA "AA" State Coach of the Year in 1985 and the NFF-CHF Lifetime Achievement award in 2015. He has coached in many local all-star games and as an assistant in the Big 33 victory over Ohio in 2005. In 1984, he was the inaugural president of the CPFCA, in addition to serving two other terms as president. He served as PSFCA president in 2002 and Game Director of the PSFCA East/West game from 2001 to 2010. He was a clinic speaker many times, and received the Marines' "Semper Fidelis" Award in 2016.
In his role as Athletic Director, John provided leadership to a highly successful and respected athletic program, and led in the renovation of BA's stadium and locker room facilities making them a copy for others to follow. PSADA named him Region 3 "AD of the Year" in 2003 and presented him with their prestigious "Distinguished Service Award" in 2016.
Coach Hayes and his wife, Vicky, whom he credits for giving him the opportunity to pursue and achieve these accomplishments, have been married 48 years and are the parents of a son, Joshua.
John would like to thank PSFCA for this prestigious honor, his loving family, the Bellwood Antis community, school district and administration, his outstanding former players for their enthusiastic play, and his coaches who are like family for their support and dedication over many years.
Finally, all the glory goes to God for his Divine influence in these endeavors. None of the achievements would have been possible without His direction.