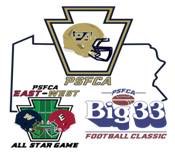 Big 33 and East/West Game Kicker, Punter, and Long Snapper Process
By: Billy Splain | PSFCA | October 5, 2020
Big 33 and East/West Game Kicker, Punter, and Long Snapper Process

Coaches Please Enroll you Kicker, Punter, and Longs Snapper for Selection
2021 Big 33 and PA East West All Star game specialist selection process
We are announcing the 2021 Big 33 and PA East West All Star Game Specialist Selection Event
. This year we are scheduling an East and West contest.
The East contest is schedule for December 20, 2020 8:00-11:00 am, at Spooky Nook Sports Complex - Dome, 75 Champ Blvd., Manheim PA.
The West event will be tentatively planned for early December with further event details and locations to follow. Final contest results will be forward to the Big 33 and PA East West selection committee for final consideration to the games.
Long Snappers - Coaches if you have a strong long snapper candidate, please nominate them for the appropriate regional selection contest. They will be used and evaluated during the punting segment of the contest.
The criteria for nomination to the contest is:
- A player must play in at least 50% of the regular season games.
- Stats from playoff games will not be included in the assessment.
- Season stats must be entered into the attached spreadsheet. Please return the spreadsheet to John Zima. He will incorporate all of the players data into a spreadsheet that will score their season performance.

Highest percentage of scores will be the strongest recommendations to the contest.
If you have a candidate that you feel has the potential to compete for this contest, please provide John Zima with the following information at:
Kickit.jz@gmail.com
- contact information, email, cell number
- coach name and email, cell number
- spreadsheet with season stats
DEADLINE FOR NOMINATION AND SPREADSHEET IS MONDAY, NOVEMBER 23rd.
We will begin to promote the event through our website and future promotions.
If you have any questions, please contact Mike Farr Farrmj@verizon.net or John Zima ( Kickit.jz@gmail.com(610-683-6591)




Sincerely,

Garry

Cathell


PSFCA-Big 33
Executive Director
4813 Jonestown Rd.
Suite 202
Harrisburg, Pa. 17109
Email: gcathell@big33.org
Phone: (717) 200-3378
Web: www.big33.org
Web: www.psfca.net