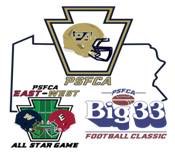 Big33 game remains on hold
By: Billy Splain | PSFCA | April 1, 2020
April 1, 2020
Dear Coaches,
The Pennsylvania Scholastic Football Coaches Association would like to update you on the status of our events being planned for the next several months. With the continued outbreak of the Coronavirus, along with new guidelines that are emerging from the Federal and State Governments and the Centers for Disease Control, we are extending our timeline for a decision on whether cancellation is necessary or not for the Big 33 Football Classic and East -West Game, scheduled for Memorial Day weekend.
With the volatile and unpredictable nature of this pandemic, we find ourselves facing necessary daily and weekly adjustments to our lifestyles and public events, as you know, in order to protect our health and safety. All of this could ultimately impact our Memorial Day weekend plans. We will continue to closely monitor this important situation and all of the ongoing safeguards being put into place. We hope to make a final decision by April 15, 2020. Once we have made a final decision, we will notify all the appropriate entities involved should cancellation of our Memorial Day weekend festivities become necessary. We will provide more information as it becomes available to us. Please also follow updates on our social media and website at www.Big33.org and www.PSFCA.net.
We are in unprecedented waters, which warrant critical measures to protect everyone's health, safety and welfare.
Please know that our thoughts and prayers are with each of you during these challenging times. In advance, thank you for your patience and ongoing support. And we'd also like to extend our deepest gratitude to all of our healthcare professionals, EMS teams, farmers, grocery retailers, and so many other critical members of our workforce who are working and continuing to support families across our great state and country!
Please stay healthy and safe!
Garry Cathell, Executive Director
PSFCA-Big 33
The PSFCA-Big33 Office has moved. All mailings and phone calls should be directed to the following address and number:
PSFCA-Big 33
4813 Jonestown Road
Suite 202
Harrisburg, Pa. 17109
P: 717-200-3378