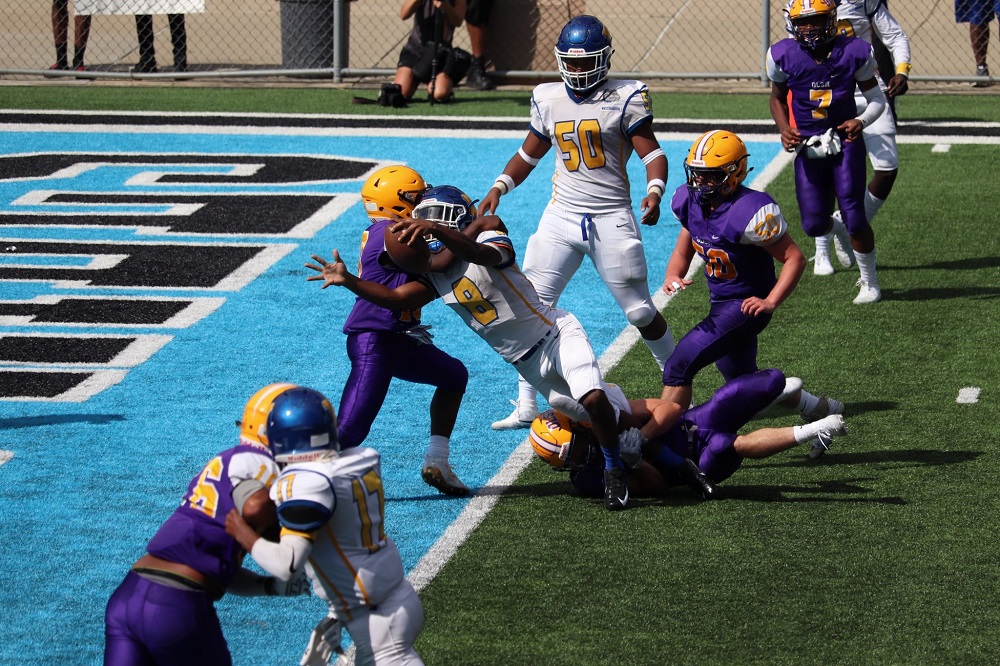 With future of fall sports being questioned, many rumors are flying around. Will they start on time
By: Billy Splain | PSFCA | May 15, 2020
Article via PAFootballNews.com Follow PA Football News on Twitter @PaFootballNews
OLSH and Westinghouse played the first game of the season last year at the WesternPA vs Everyone showcase at the Wolvarena on August 24. This year OLSH will face Perry Academy to start the 2020 football season for Pennsylvania, but will that game happen?
Spring sports were cancelled all around the country due to the Covid 19 outbreak. In turn, rumors of a fall outbreak have many guessing and even scared at what might happen to fall sports and if they'll be played at all. Because PFN is a statewide football site, I have the privilege (and honor) of talking to coaches, fans and players from all ends of the state, and I can tell you my phone has been working overtime–the worry is real. All sorts of rumors are being floated, from "we'll be playing football in the spring" or "there won't be a football season," to "fall sports won't start until the entire state of Pennsylvania enters what Governor Wolf tabbed as "the green phase". Tonight I had a conversation with PIAA Executive Director, Dr. Bob Lombardi, and he had some very informative insights. After our conversation, I can assure you that none of the scenarios you may have heard are correct.
When asked about the question of the red/yellow/green phase rumor Dr. Lombardi started off with "There's lots of stuff out there floating around with social media. We haven't even discussed that. The first discussion we'll have about that will be next Wednesday at the board meeting." He says anything anyone has heard about the colored phases as far as sports goes is incorrect. What he does believe should ease some minds: "We are cautiously optimistic that everything will start on time. We are going to follow the guidance of Governor Wolf, the PA Department of Health and the Department of Education" said Lombardi, "to see what road that will give us and then we'll go from there but we don't have any more information than anyone else, the general public."
Addressing the notion of football in the spring, Lombardi brought up a rumor that hit social media about Ohio flipping the seasons. "That's kind of absurd. People can write what they want. There was no truth to that. We could never ask football to end at the beginning of summer and get ready to start back up 2-3 months later, not to mention we would never consider making spring sports miss another season back to back." It would also make the athletes choose between football and their spring sport, not to mention what would happen to track if they ran in the fall.
Make no mistake, the PIAA was disappointed that the governor cancelled on-campus school for the year. "Just give kids the chance. It would have been nice to at least give them a chance, but I do understand the pressure the state was under," said Lombardi. We discussed what could have happened if there was a shortened season. A thirty-day season could have been doable. We could have said "hey track teams, instead of having all duals, you have a dual meet on Tuesday, maybe a tri-meet on Thursday and say look guys, it's a Saturday, you can have a quad meet. Let's get this season in." The same could have been done with baseball and softball. Look at the way these AAU teams play, you play a double header on Monday, one on Wednesday and another double on Friday or even Saturday. Of course none of those scenarios were written down this was just a conversation we had.
When schools closed, the PIAA stopped all school on-campus activities until July 1 thereby ending any hope of getting in even a shortened season for the spring sport teams. Late Thursday the OSHAA, Ohio's equivalent of the PIAA, announced that Ohio Governor Mike DeWine is looking to restart non-contact sports on May 26. At the time of our conversation Lombardi was unaware of that decision. When asked about what happens if things change in Pennsylvania before then he said "that's also one of the things we'll take a look at on Wednesday. We want to have some dialogue because obviously there's a real disparity among the 67 counties across the state and we'll want to have some options on the table."
Ending the conversation, Dr. Lombardi again reiterated that "the PIAA is just as much in the dark as the rest of you. Please be patient and we'll do everything we can to help the student athletes to the best of our abilities."