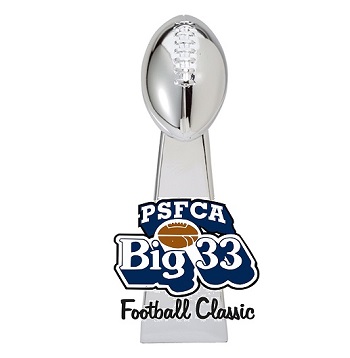 Big 33 Super Bowl streak turns 55 this year.
By: Billy Splain | PSFCA | January 25, 2021
Its a streak that began when Northeast High Schools Herb Adderly, who played on the 1957 Big 33 team, suited up for the Green Bay Packers in the very first Super Bowl ever played.
Since that day, 141 former Big 33 players have played in what will now be all 55 Super Bowls. This year's edition will include 3 players and one general manager. Let's meet this years participants.
Chad Henne, A.Q. Shipley, Yasir Durant, Brett Veach, Frank Clark

Chad Henne, Wilson-West Lawn High School. Chad played in the 2004 game that was won in a thriller by the Ohio team. Henne is a quarterback with the Kansas City Cheifs

AQ Shipley, Moon Area High School. AQ also played in the 2004 Big 33 Game. He's a center for the Buccaneers, unfortunately, he won't get to play due to an injury he got in late November.
Yasir Durant, Imhotep High School. Yasir is the most recent Big 33 Alum in the Super Bowl, having played in the 2016 game, another thriller won by the Ohio team. Yasir is an offensive tackle for the Chiefs.
Brett Veach, Mt. Carmel High School. Brett played for PA in the 1997 game won by the PA squad, 21-20. Brett is the General Manager for the Chiefs.
Frank Clark, Glenville OH. Frank played on the 2011 Ohio team that decimated the PA team 50-14. Frank is a defensive end for the Chiefs.

Also chosen for the Big 33 but elected not to play in the game were Tampa Bay players Jordan Whitehead & Lesean McCoy and Chiefs lineman Stephan Wisniewski
Here is the list of every Big 33/Super Bowl participant:
| | | | |
| --- | --- | --- | --- |
| Herb Adderley | Brandon Short | Mitch Frerotte | Chase Blackburn |
| Harry Such | Marc Edwards | Jim Richter | Chris Snee |
| Joe Namath | Andy Katzenmoyer | Mark Stepnoski | Sean McHugh |
| Glenn Ressler | Ty Law | Dave Wannstedt | Scott Paxson |
| Bob Vogel | Marc Bulger | Andre Coleman | Doug Whaley |
| Ed Sharockman | Tyoka Jackson | Eric Jonassen | Seteave Breaston |
| Roy Winston | Jeff Christy | Ed McCaffrey | Steve Keim |
| Myron Pottios | Monte Kiffin | Ron Milstead | Zach Strief |
| Ted Vactor | Jon Ritchie | Kevin Mitchell | Darnell Dinkins |
| Frank Gallagher | Charles Woodson | Anthony Peterson | Anthony Gonzalez |
| Terry Hanratty | Dan Koppen | Adam Walker | Jamie Thomas |
| Tony Dorsett | Gene Mruczkowski | Ricky Watters | Ryan Mundy |
| Jack Dolbin | Nick Goings | Donta Jones | AJ Hawk |
| Matt Bahr | Rodney Bailey | Tim Lewis | Brandon Underwood |
| Dave Elmendorf | Justin Kerpeikis | Eric Ravotti | Matt Willhelm |
| Matt Millen | Hank Poteat | Ty Las | Mario Manningham |
| Joe Montana | Tom Brisher | Curtis Martin | Da'Rel Scott |
| Archie Griffin | Adrien Clarke | Todd Rucci | Henry Hynoski |
| Jimmy Cefalo | Bruce Perry | Scott Zolak | Lousaka Polite |
| Russ Grimm | Dan Kreider | Antonio Freeman | Brian Hoyer |
| Rich Milot | Mike Logan | Steve Bono | Zoltan Mesko |
| Dan Marino | Ben Roethlisberger | Vaugh Hebron | Gino Gradkowski |
| John Frank | Rian Wallace | Omar Brown | Ted Ginn Jr |
| Jimbo Covert | Teryl Austin | John Flannery | Nate Stupar |
| Mike Hertenstine | Rocky Booiman | Nate Hobgood-Chittick | Zac Dysert |
| Matt Suhey | Marlin Jackson | Orlando Pace | Jordan Hill |
| Brad Benson | Marvin Harrison | Lorenzo Styles | Steve Vallos |
| Tom Flynn | Bob Sanders | Mike Archie | Gary Gilliam |
| Ken Karcher | Robbie Gould | Mike Frederick | Darrelle Revis |
| Bruce Kozerski | John Gilmore | Mike Munchak | Brandon McManus |
| Steve Bono | Tyler Everett | John Thornton | Matt Schaub |
| Jeff Hostetler | Pierre Woods | Kim Herring | Brian Hoyer |
| Jim Kelly | Kyle Brady | Jermain Lewis | John Johnson |
| Frank Reich | Dan Koppen | Kerry Collins | Kevin Givens |
| Mark Kelso | Josh McDaniels | Joe Jurevicius | Frank Clark Jr |
| | | | Brett Veach (GM) |