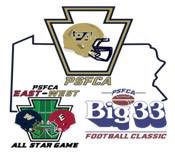 PSFCA 2021 Virtual Clinic Information F e b. 11-13, 202
By: Billy Splain | PSFCA | January 8, 2021
PSFCA Virtual Clinic Information
PSFCA 2021 Virtual Clinic Information
The PSFCA is proud to announce that we will be holding a
Virtual Football Clinic
. The VFC will take the place of our annual face to face clinic that normally takes place at The Penn Stater Convention Center in State College. We will hopefully renew our in person State College clinic in February of 2022.
*****This past year we sent a survey to all of our membership about the clinic and we received a tremendous amount of feedback. We are very excited with the clinic agenda and many of your survey suggestions were helpful with our planning.
Information about the clinic will be coming out this Monday
January 11, 2021
.
Please keep checking your emails to get the official clinic release and all of the needed information.
This will be a tremendous opportunity for you and your coaching staff.