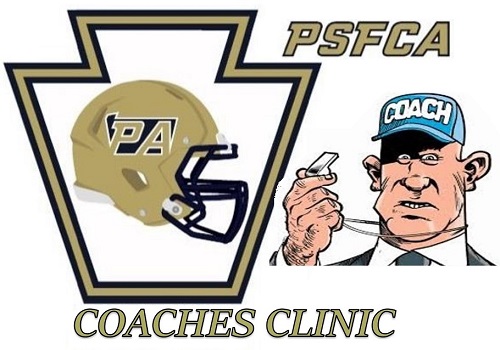 PSFCA 2021 Virtual Clinic Information update Feb. 11-13, 202
By: Billy Splain | PSFCA | January 11, 2021
PSFCA Virtual Clinic Information
PSFCA 2021 Virtual Clinic Information
The PSFCA is proud to announce that we will be holding a
Virtual Football Clinic
. The VFC will take the place of our annual face-to-face clinic that normally takes place at The Penn Stater Convention Center in State College. We will hopefully renew our in person State College clinic in February of 2022.
The Pa Scholastic Football Coaches Association is offering a virtual coaches clinic in conjunction with
Coaches Clinic
and
[http://Coach%20Tube]Coach Tube
. The 2021 Clinic will boast a lineup of almost 70 of the best high school, college, and professional football coaches in the nation. Headlining the program will be Speakers from the NFL. Minnesota Vikings WR Coach Andrew Janocko and
Nick Rallis, Def. Quality Control. Division 1 Coaches from
Penn State, Pittsburgh, Temple, Coastal Carolina, Bucknell, and Villanova. Division II Coaches from
Edinboro, Bloomsburg, West Chester, California U, and Kutztown PA. Many successful HS coaches from Pa and guest speakers from the MD High school coaches association as well. Strength and Conditioning legend Buddy Morris gives his expertise information, and Julie Walker from the Peyton Walker Foundation speaking about sudden cardiac arrest. Finally, on Saturday February 13 you can view on field demonstrations by Penn State, Pittsburgh, and Temple Coaches.
The PSFCA virtual clinic registration site is live. Coaches can access the site here:
Click the "Book my Space" tab in the upper right corner, once members have received their paid membership codes from the PSFCA office. Those coaches who have not joined the PSFCA can immediately register at the link below.
For any coaches that have purchased their single PSFCA Membership w/ Clinic pass already they can use this promo code to receive a 100% discount on the
$125
basic clinic fee:
Clinic Code:
Sent to you Via PSFCA Office
For coaches that have purchased their single PSFCA Membership only (no clinic), their promocode is:
Sent to you Via PSFCA Office
That will drop the $125 down to a
$25
fee for the virtual clinic.
For any Staff/Program PSFCA members that have purchased their PSFCA Membership, with Clinic Pass use this code:
Sent to you Via PSFCA Office
It will discount the $500 to
$0
.
These are the only Ticket Options the promocodes will work for. Follow directions on the registration page for those individuals or staffs that will allow you to register at the above link.
All non-PSFA members and out-of-state coaches will pay full price. Registration information is located on the link below.
Garry Cathell, Executive Director